GARLIC SPRAY SEEMS TO HAVE A DETERRING EFFECT ON A WIDE RANGE OF INSECTS, SO YOU MAY WANT TO TRY THIS HOMEMADE GARLIC SPRAY TO GET RID OF APHIDS OR EVEN ANTS
Since garlic has such a strong smell, it confuses insects in search of their favorite plants, so this spray works best before plant infestation. So for maximum effect, spray before pests have become a problem.
David Stern, an organic farmer and director of the Garlic Seed Foundation in Rose, New York gives us this garlic recipe which he says works even for young bean and potato plants or even to spray the soil to get rid of nematodes.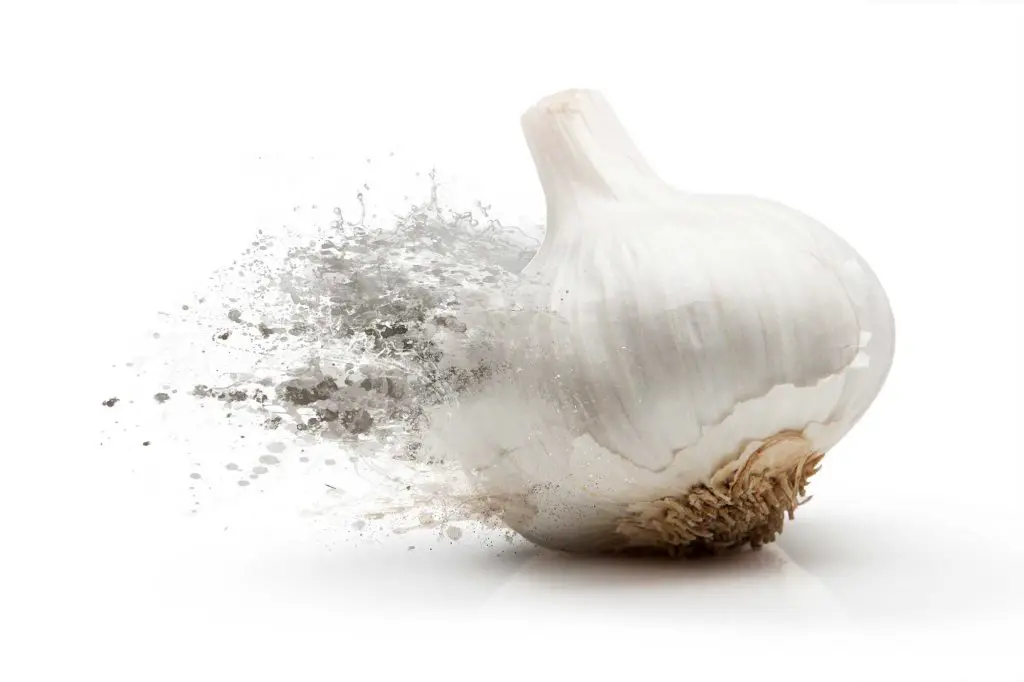 Making the Garlic Spray concentrate:
You must begin by making a garlic spray concentrate so that you can remix some of this concentrate with water to make the mixture to be used on your plants.
To make your garlic spray concentrate, you will need 2 to 3 whole garlic bulbs (1/4 lb of garlic), 1 quart of water (a little more than a liter), 4 to 5 drops of dishwashing soap (I like to use Murphy soap, a pure vegetable oil soap which is biodegradable), a blender or a food processor, a cheesecloth, and a 1-quart glass jar.
Directions:
1. Do not peel the garlic bulbs – just separate the cloves.
2. Using a blender or a food processor, add these garlic cloves and 1 cup of water. Chop until well blended.
Since garlic leaves contain allicin, one of the ingredients that repel insects, you can replace the cloves with garlic leaves if you have lots of garlic plants growing in your garden.
3. Now add the rest of the water and the dishwashing drops to the mixture and blend until the mixture has turned to liquid. (This usually takes several minutes)
4. Strain the mixture through cheesecloth to remove bits of garlic that might clog the sprayer. It's a good idea to strain a second time if any debris remains in the garlic spray concentrate.
5. You should now have about 1 quart of concentrated garlic extract. Store the strained concentrate in a glass jar with a tight fitting lid until you are ready to use it.
Now to make your garlic spray you will use for spraying your plants:
Take 1 cup of the concentrate, mix with 2 1/2 cups of water, and pour this mixture into a pump spray bottle or a pressure sprayer.
Use this garlic spray mixture to spray the plants that are under pest attack or that you suspect are likely targets.