When To Spray Fruit Trees
EVERY FRUIT GROWER WILL REALIZE SOONER OR LATER THAT IN ORDER TO HAVE BEAUTIFUL AND HEALTHY FRUIT ONE MUST FOLLOW A SPRAYING SCHEDULE AND KNOW WHEN TO SPRAY FRUIT TREES
According to my gardening books, professional growers spray fruit trees at every stage: dormant, green tip, 1/2 inch green, pink blooms beginning, full bloom, after the petals fall, and every 10 days thereafter until the harvest. No wonder it is important for the consumer to clean the fruit thoroughly before eating it.
However, sprays such as captan or zineb or malathion, or methoxychlor used by commercial growers is detrimental to both your and your family's health and to the environment; therefore, you may want to use one of the natural horticultural sprays or homemade fruit tree sprays instead.
By making the change to natural or homemade products to spray fruit trees, you are definitely eliminating the possibility of not only absorbing a lot of toxins when you're eating the fruit but also inhaling the toxic vapors when you are spraying.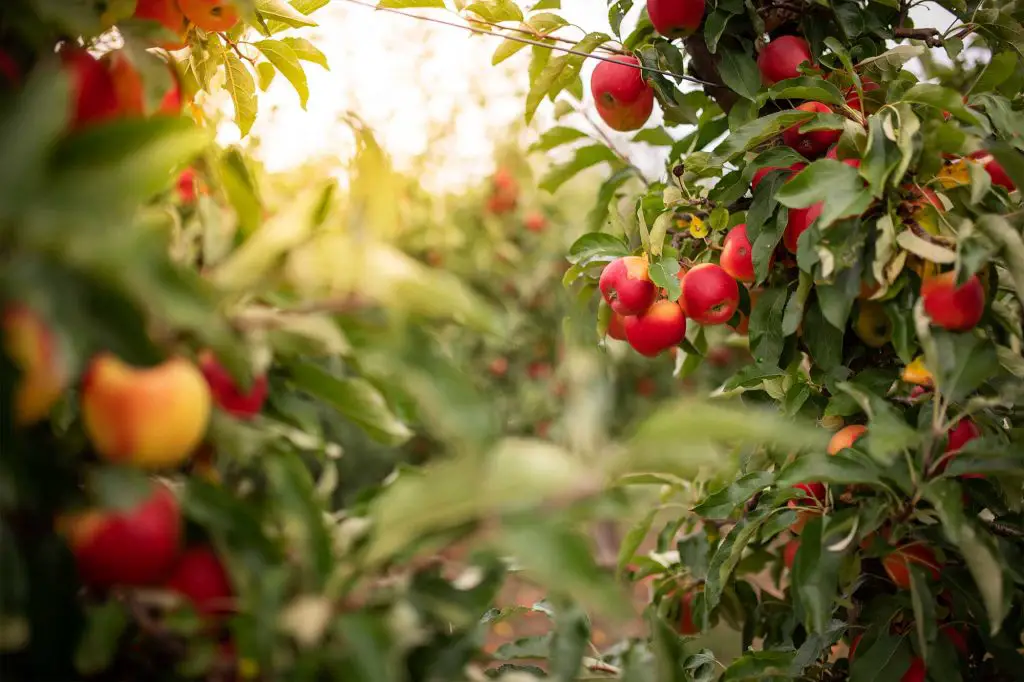 When to spray fruit trees?
One time when it is extremely important to spray fruit trees as soon as you can is in the spring. As soon as you don't have any more freezing at night, you should do your first spraying of the season.
For this first spraying, you can choose horticultural sprays which can be bought at hardware stores or at nurseries or you can mix and use the homemade fruit tree spray.
If you choose to use the horticultural sprays, you have a certain time limit from the time there is no more freezing at night to before the tree buds swell and break into leaves.
On the other hand, you can use the homemade fruit tree spray as your first spray in the spring after there is no more freezing at night and continue using it throughout the summer.
Since this homemade spray is non-toxic, you can use it to spray fruit trees whenever you want – spring or summer. However…do not delay in the spring or your battle with insects will double. Yes, the sooner you spray in the spring the better it is for both tree and fruit.
If spraying fruit trees during blooming time, use a soft spray so as not to disturb the bloom.
Another advantage to using the homemade fruit tree spray to spray fruit trees…
…is that it contains ingredients such as molasses and liquid seaweed which can give the tree a boost in nutrition through foliar feeding. As a result, you end up with bigger and more nutritious fruit.
Although from spring to fall you can spray fruit trees every 10 days to 2 weeks until you harvest the fruit, if you are having no problems with insects or fungi, you can spray less often if you wish. Alternatively, you would definitely spray every week if you have an infestation of insects or fungus.
Just remember, though, that fruit trees need more than regular spraying to keep insects at bay. It is just as important to keep the soil well nourished with good compost or aged manure so that the tree can remain healthy and thus not attract insects.
So even though this article is about when to spray fruit trees, it is important to remind you to keep the trees watered and the soil around the tree healthy and rich in nutrients.
If you do use the homemade recipe when you spray fruit trees, I would love to get your comments at the end of the growing season. Let us know how well the spray worked.
The more people use this type of spray the better our food and environment will be; so the more success stories gardeners read about the more likely they will use natural or homemade spray when it is time to spray fruit trees.